Ultimate Curriculum (that kids will actually like)
Access 100+ Games and Drills and 8+ pre-set curriculums that make it easy for coaches to teach ultimate to youth. 
No more countless hours training your coaches and creating curriculum for them. Follow Elevate's proven curriculum and lesson plans to save time and stress. 
Sample Game Tutorial - Duck Hunt
Inside the Curriculum Dashboard
What's Included
60+ video tutorials with Coach Ari and Danie explaining the games and drills ($6,000 value)
8+ easy to follow, step by step curriculums for various age ranges, skills, and scenarios (ie. 6 hour camps for 9 year old beginners, 10 week programs for 16 year old advanced players) ($3,000 value)
100+ drill and game PDFs that include set up, equipment needed, and adaptations for different levels ($5,000 value)
Access to the Elevate Mastermind community – quarterly meetings with leaders from organizations around the world. opportunity to learn from each other and grow youth ultimate together ($2,000 value)
Ongoing support from Ari and Danie to create new curriculum, new games and drills ($6,000 value)
Annually
$1,599 cad
Save $300+. For club and state organizations. Max 20 coaches can have access.
Current Partners Include: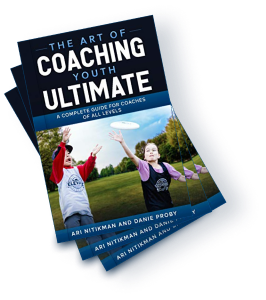 From the authors of
The Art of Coaching Youth Ultimate
200+ copies sold around the world